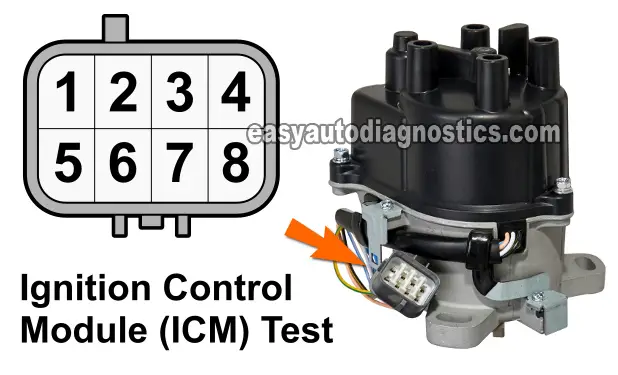 Testing the ignition control module (ICM), which is located inside the distributor on the 1999, 2000, or 2001 2.0L Honda CR-V, is not that hard to do.
In this tutorial I'll explain how to test it. With the results from the ICM test, you'll be able to find out if it's defective or not.
I'm also going to show you where you can buy the ignition module and hopefully save a few bucks..
Contents of this tutorial at a quick glance:
The following tutorials may come in handy:
Test The Ignition Coil First
Before you start your ignition control module diagnostic, you first need to test the ignition coil.
The idea behind testing the ignition coil first, is to make sure that it is NOT defective and thus NOT behind the no start condition of your 1999-2001 2.0L Honda CR-V.
I can tell you from personal experience, that the ignition coil test is not hard. I have written a tutorial that will show you how to test it in a step-by-step manner. You can find this tutorial here: How To Test The Ignition Coil (1999-2001 2.0L Honda CR-V).
Distributor Connector Circuit Descriptions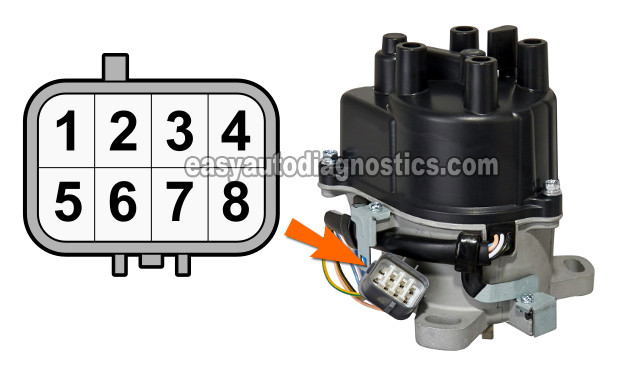 The distributor on the 1999, 2000, and 2001 2.0L Honda CR-V has 8 wires coming out of its connector.
To be able to test the ignition control module, we need to know which wires are the one ones that provide battery power and the ICM control signal. So, in the table below you'll find a brief description of all 8 wires:
1999-2001 2.0L Honda CR-V Distributor Connector
Pin
Wire Color
Description
1
YEL/GRN
ICM Control Signal
2
BLU
CKP Sensor
3
GRN
TDC Sensor
4
YEL
CYP Sensor
5
BLK/YEL
Power (+)
6
WHT
CKP Sensor
7
RED
TDC Sensor
8
BLK
CYP Sensor
It's important to note that the connector on the distributor itself has male spade terminals.
The engine wiring harness distributor connector has female terminals. Avoid inserting your multimeter test probes inside the female terminals (of the distributor engine wiring harness connector) to avoid damaging them.
NOTE: You can find the ignition system wiring diagram (1999, 2000, and 2001 2.0L Honda CR-V) here: 1999-2001 2.0L Honda CR-V Ignition System Wiring Diagram.