TEST 3:

Testing The MAF Signal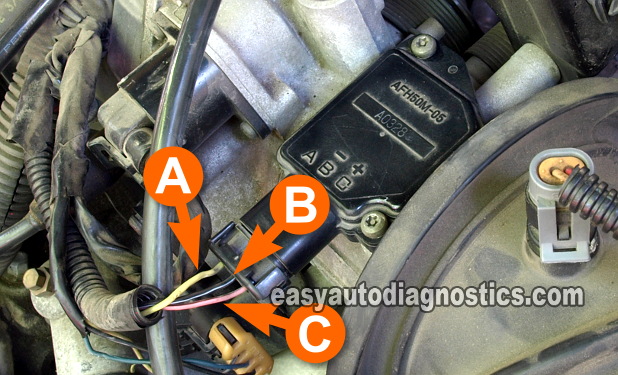 Now that the basics have been checked, we'll check the MAF signal coming out of the sensor and going to the ECM.
The wire that we're gonna' tap into, to check the MAF signal, is the wire labeled with the letter A in the photo above.
Before you start the MAF signal test, start the engine and let it reach it's normal operating temperature.
NOTE: The MAF sensor must be connected to its connector to perform this test. You'll need to back probe the MAF signal wire at its connector or use a wire piercing probe. You can see an example of this tool here: Wire-Piercing Probe.
Let's get going:
1

Place your multimeter in frequency (Hz) mode.

2

With a suitable tool connected to the red multimeter test lead, probe the A circuit as shown in the photo.

3

Connect the black multimeter test lead to the battery negative (-) terminal.

4

Start the already warmed up engine.

5

Note the Hertz reading on your multimeter at idle. This reading may be stable (with only small fluctuations) or unstable with very extreme fluctuations. No matter what the instability in the reading, this will be your base reading.

6

Manually accelerate the engine from the engine compartment as you watch the multimeter's frequency readings. The Hertz Frequency readings should increase as you rev up the engine.

7

Let go off of the throttle and let the engine returns to idle. The Hertz reading should come down to the base Hertz reading you observed in step 5 of this test.

8

Rev up/down the engine several times. Each time the multimeter should register an increase/decrease in the MAF signal voltage.
Let's analyze your MAF signal test result:
CASE 1: The Hertz value increased/decreased as you revved up/down the engine -This test result lets you know that the MAF is OK and therefore functioning correctly.
CASE 2: The Hertz value DID NOT increase/decrease as you revved up/down the engine -This test result tells you that the MAF is bad. Replace the MAF sensor.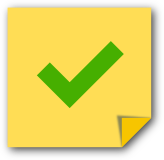 If this info really saved the day, buy me a beer!