TEST 4:

Testing The Blower Switch Speed 4 (HI) Circuit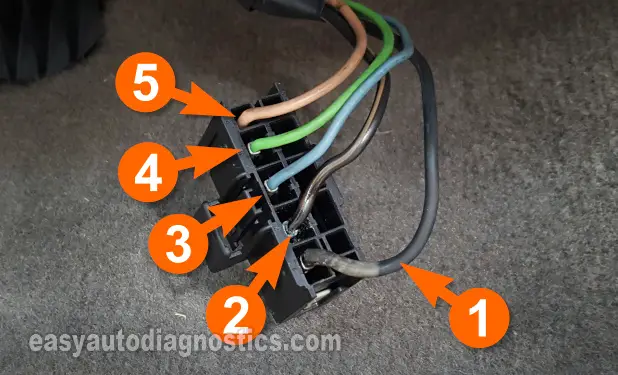 For our last test we're gonna' test the black with tan stripe (BLK/TAN) wire of the blower resistor assembly's connector. This is the wire that connects to the speed 1 (HI) circuit within the blower switch.
The BLK/TAN wire is labeled with the number 2 in the photo above.
These are the test steps:
1

Disconnect the blower resistor from its electrical connector.

2

Select blower motor speed 4 on the AC/Heater Control Panel.

3

Connect the 12 Volt test light's alligator clip to the positive (+) battery jump start terminal in the engine compartment.

The positive (+) jump start terminal is on the under-hood fuse box (see photo 2 of 2 of TEST 1).

4

Back probe the terminal that connects to the BLK/TAN wire of the resistor block's connector with the metallic point of your 12 Volt test light (see photo above).

NOTE: Avoid probing the front of the female terminal of the connector or you run the risk of damaging it with the tip of the 12 Volt test light.

5

The 12 Volt test light should come on if the speed 4 (HI) circuit is OK.
Let's examine your test result:
CASE 1: The 12 Volt test light turned on. This is the correct test result.
If the blower motor passed TEST 1, TEST 2, TEST 3, and TEST 4; then you can conclude that the blower motor control switch is not defective on your 2001-2004 2.4L DOHC Chrysler Sebring or Dodge Stratus.
CASE 2: The 12 Volt test light DID NOT turn on. This test result confirms that the blower motor control switch is defective and needs to be replaced.
More 2.4L Chrysler And Dodge Tutorials
You can find a complete list of 2.4L Chrysler and Dodge tutorials in this index:
Here's a small sample of the tutorials you'll find in the index: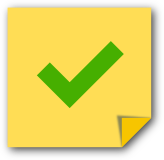 If this info really saved the day, buy me a beer!