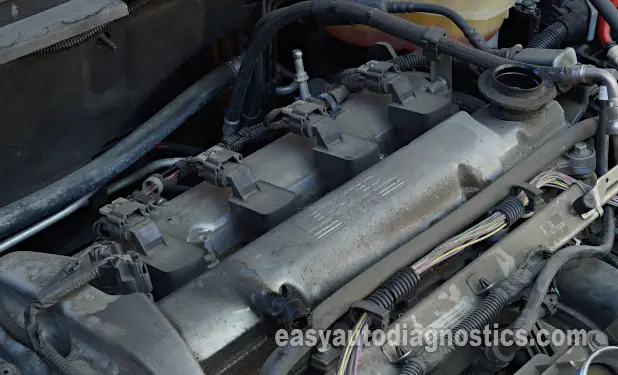 A bad ignition coil will cause a misfire problem that'll light up the check engine light with a misfire trouble code.
Since the ignition coils are very easy to get to, testing them is a breeze. In this tutorial, I'll explain how to test them so that you can find out if any of them are defective and causing a misfire problem.
Contents of this tutorial at a quick glance:
NOTE: This tutorial applies to the following 2.4L equipped GM vehicles (since the use the exact same ignition coils):
2.4L Chevrolet Cobalt: 2006, 2007, 2008.
2.4L Chevrolet HHR: 2006, 2007, 2008, 2009.
2.4L Chevrolet Malibu: 2008, 2009, 2010, 2011, 2012.
2.4L Pontiac G5 GT: 2007, 2008.
2.4L Pontiac G6: 2006, 2007, 2008, 2009, 2010.
2.4L Pontiac Solstice: 2006, 2007, 2008, 2009.
Symptoms Of A Bad Ignition Coil
As mentioned at the beginning of the tutorial, a bad ignition coil will cause the engine in your vehicle to misfire. And the fuel injection computer will light up the check engine light with one or more of the following misfire trouble codes:
P0300: Random Cylinder Misfire.
P0301: Cylinder #1 Misfire.
P0302: Cylinder #2 Misfire.
P0303: Cylinder #3 Misfire.
P0304: Cylinder #4 Misfire.
But a misfire trouble code isn't the only thing you'll see/notice. You're also gonna' see one or more of the following symptoms:
Lack of power when accelerating the engine under load.
Bad gas mileage.
Rough idle.
What Tools Do I Need To Test The Ignition Coils?
You don't need any expensive test equimpment to test the ignition coils. Here's a basic list of the tools you'll need to test the them:
Spark tester.
Hand tools. For example: 3/8" ratchet and sockets to remove the ignition coil from its place on the valve cover.
The spark tester is a crucial tool to have to safely test the ignitions coils. The spark tester will also guarantee that you get an accurate test result from your ignition coil spark tests.
You can use any type of dedicated spark tester but the one I recommend (due to its simplicity of use and accuracy) is the HEI spark tester. You can find out more about it and where to buy it here: The HEI Spark Tester (The Best Spark Tester On The Market).
Where To Buy The Ignition Coil And Save
The following links will help you comparison shop for the 2.4L Malibu (Cobalt, HHR, G5 GT, G6, Solstice). I think they'll save you some bucks:
TEST 1:

Checking For Spark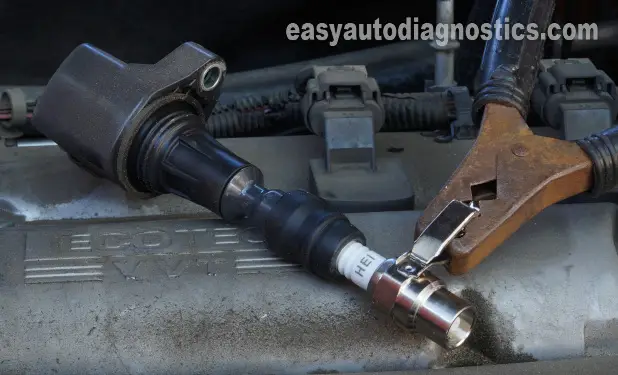 If an ignition coil is defective, it's not gonna' spark. And testing for spark is really easy.
To get the most accurate test result, I recommend that you use a dedicated spark tester. The spark tester that I use and that I recommend is the HEI spark tester.
Now if you don't have one, you can buy one online and the cool thing is that the HEI spark tester doesn't cost an arm and a leg. You can check it out and buy it here: OTC 6589 Electronic Ignition Spark Tester.
Let's get testing:
1

Disconnect and remove the cylinder #1 ignition coil from its place on the valve cover.

2

Reconnect the ignition coil to its electrical connector.

3

Connect an HEI spark tester to the ignition coil.

4

Ground the HEI spark tester with a battery jump start cable directly on the battery negative (-) terminal.

5

Have a helper crank the engine while you observe the spark tester.

6

The spark tester should spark if the ignition coil is good.

7

Test the other 3 ignition coils for spark.
Let's see what your test results mean:
CASE 1: All ignition coils sparked. This is the correct test result and lets you know that all 4 ignition coils are OK and doing their job.
If your 2.4L Malibu (Cobalt, HHR, G5 GT, G6, or Solstice) is experiencing a misfire problem, I suggest you check engine compression and the fuel injectors. The following tutorials will help you with these tests:
CASE 2: An ignition coil DID NOT spark. This usually means that the ignition coil (that did not spark) is defective and needs to be replaced.
To be absolutely sure that it is defective I suggest one more test. For this test go to: TEST 2: Swapping Ignition Coils.