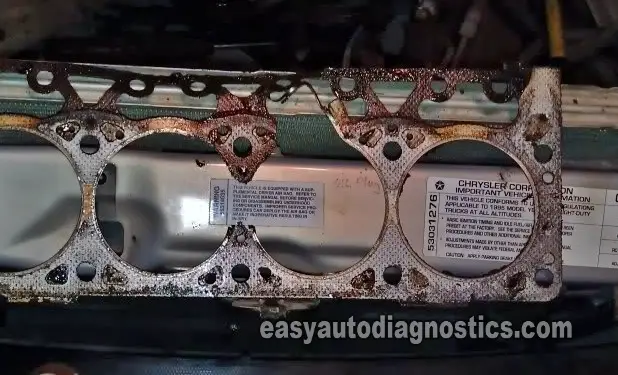 There are 4 specific ways to test for a blown head gasket. So, if you suspect that your Chevy S10 (or GMC S15) has a blown head gasket, this tutorial will show you how to test for a blown head gasket (just like they do at the auto repair shop).
Two of these tests involve no tools what-so-ever , the third involves a compression tester (and thus a compression test), and the fourth a handy tool called a combustion leak tester (commonly known as a block tester).
Contents of this tutorial:
Puedes encontrar este tutorial en Español aquí: Cómo Probar Un Empaque De Cabeza Quemado (2.8L V6 S10/S15) (en: autotecnico-online.com).
Symptoms Of A Blown Head Gasket
A blown head gasket is usually the result of severe engine over-heating.
There are several symptoms and if the head gasket is blown on your 2.8L V6 S10/S15, you'll definitely see at least one or two of them:
Overheating.
Oil Mixed with coolant.
White smoke coming out of the tail-pipe.
Engine cranks, but does not start.
No compression on two side by side cylinders.
TEST 1:

Engine Oil Mixed With Coolant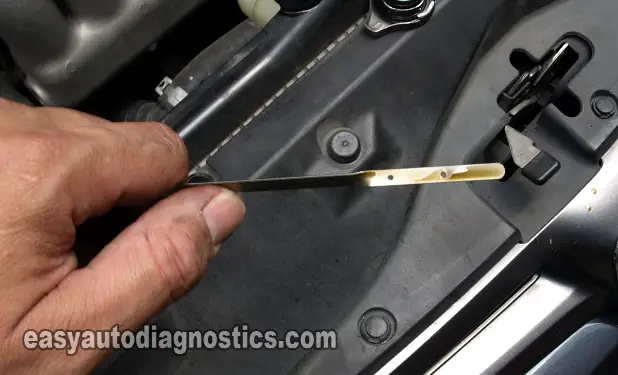 The most common end result of a blown head gasket is coolant mixing with the engine oil.
So, the very first thing we'll check, to diagnose a blown head gasket, is the color of the motor oil on the engine dipstick.
These are the steps:
1

Open the hood of your Chevrolet S10 or GMC S15.

2

Pull out the engine oil dipstick.

3

Check the color of the oil sticking to the dipstick.

4

You'll see one of two things: The color of the oil will be a milky white color or the color of the oil will be its normal color.
Let's take a look at your test results:
CASE 1: The engine oil was a milky white color. This tells you that the coolant is mixing with the Oil and that you do have a blown head gasket on your hands.
CASE 2: The engine oil was its normal color. This doesn't confirm anything just yet. You'll need to go to the next test to make sure. Go to: TEST 2: Coolant Shooting Out Of Radiator.