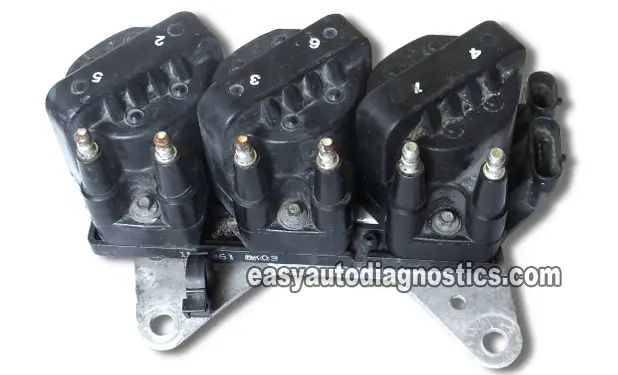 In this type of Direct Ignition System (DIS), three individual ignition coil packs are mounted right on top of the ignition control module (ICM). As you already know, each coil pack comes with two towers that fire off a spark to two different cylinders simultaneously.
This tutorial will take you by the hand (so to speak) and show you how to test them step by step on the car or mini-van in five easy steps. You'll also test and diagnose bad spark plug wires and/or a faulty ignition control module.

You can find this tutorial in Spanish here: Cómo Probar las Bobinas de Encendido (GM 3.1L, 3.4L) (at: autotecnico-online.com).
IMPORTANT: Before we go on, let me tell you that this article only tests for a bad ignition coil pack(s) and is geared more toward solving a misfire condition in which the car (or minivan or truck if you're driving an Isuzu) starts and runs but runs with a misfire.
If your vehicle does not start and you need to test the ignition control module (ICM) or the crankshaft position sensor on this type of Direct Ignition System, see this tutorial here: Testing The Ignition Module And Crank Sensor (GM 3.1L, 3.4L). To see the complete list of 3.1L and 3.4L test articles, go to the GM 3.1L, 3.4L Index Of Articles.
The following tutorials may also be of help:
Now in case you're wondering what vehicles this article applies to, it applies to most of the GM models (Buick, Chevy, Olds, and Pontiac) with either a 3.1L or a 3.4L. Also, Isuzu Rodeo and Trooper with the 3.2L V6 engine (92-95). You'll find, on the column on the right, a box titled: Applies To and in it a list of most of the makes and models this testing info applies to.
To help you to diagnose this type of Direct Ignition System, the following sub-headings (below) will shed some light on the most common symptoms of a bad ignition coil, some basic working theory, the tools you'll need, and safety precautions you need to take when working on this type of Direct Ignition System (DIS).
Symptoms Of A Bad Ignition Coil Pack
The most common symptoms of a bad ignition coil are:
The check engine light will be on on your instrument cluster due to:

Misfire codes: P0300, P0301, P0302, P0303, P0304, P0305, P0306.
Or other ignition system malfunction codes.

Rough Idle caused by engine misfire.
Bad gas mileage that results from the engine not firing on all cylinders.
Excessive tail-pipe emissions that, depending on how bad the misfire is, can be seen as black smoke coming out of the tail-pipe.
A "rotten egg" smell coming from the tailpipe.

This smell is caused by unburned gasoline from the misfiring cylinder overloading the catalytic converter's oxidation process.
This smell is usually the surest indicator that the misfire will eventually damage the catalytic converter or of your car.

A lack of power since the engine is not firing on all cylinders.
Basic Working Theory Of The GM 3.1L And 3.4L Ignition System
The five most important things that you need to know about this type of Direct Ignition System to be able to test the ignition coils, are:
That each coil pack needs 12 Volts.
That each of the individual coil packs sitting on top of ignition control module are controlled by a Switching signal. This Switching signal is created by the ignition control module.
That it's nearly impossible for all three ignition coils to go bad.
That each ignition coil can be tested on the car (or mini-van or truck if you're driving an Isuzu).
That with the right tool, you can diagnose an ignition coil with 100% accuracy.
Now, I'm gonna' go into some detail to explain lines 1 and 2 (12 Volts and the Switching signal) above. As you may already know, any electric/electronic automotive component needs 12 Volts and Ground to work.
This applies to each ignition coil pack sitting on top of the ignition control module. Except that each ignition coil does NOT have a 'full-time' Ground. They do need a Ground and are Grounded, but it's a Ground that's turned ON and OFF by the ignition control module (and not thru' a wire that's connected directly to chassis Ground or the battery negative (-) terminal).
This is where the term: Switching signal comes into play, since this is what the turning On and OFF of the Ground that the ignition module provides is named. And as you may already know, this is what causes the ignition coil packs to fire off spark. So, obviously, without this Switching signal the ignition coil won't spark.
This Switching signal can be easily tested and this article will teach you how! OK, we're done with the 'working theory' part. Now lets find out what tools we need to properly diagnose these ignition coil packs.
What Tools Do I Need To Test The Ignition Coil Packs?
You don't need any expensive testing equipment to test and diagnose a bad ignition coil pack on your Chevy (or Buick, or Pontiac, or Olds) car or mini-van. You'll need:
A test light.
An LED light.
A multimeter (don't have a digital multimeter? Need to buy one? Click here to see my recommendations: Buying A Digital Multimeter For Automotive Diagnostic Testing).
An HEI spark tester

This inexpensive spark tester is a MUST HAVE for correctly diagnosing your GM vehicle's coil-on-plug ignition coils using the information and tests in this article (don't have an HEI spark tester? Need to buy one? You can buy it here: OTC 6589 Electronic Ignition Spark Tester).

Don't use a regular spark plug instead of a spark tester.
A battery jumper cable. This jumper cable will come in handy in TEST 2 of this article.
You'll need a helper to help you crank the engine while you perform the tests.
A repair manual for the specific vehicle that you're working on. This manual will come in handy to answer any specific questions on how to remove and replace the component that you'll diagnose as bad, that this article does not cover.
Although a scan tool (automotive diagnostic scanner) does come in handy to retrieve the misfire code, it's not required to test the coil packs. Why? Well, because with the help of this article, you'll be testing the ignition coil packs on the car dynamically. This is something that a scan tool can not do for you.
Safety Precautions And Guidelines When Testing The Coil Pack
Since you'll be working around a cranking engine this section can be summed up with the following: use common sense and take all necessary safety precautions.
Where To Buy The Ignition Coils And ICM And Save
The following links will help you comparison shop for the original AC Delco (Delphi) ignition module and ignition coils:
Not sure if the above ignition module and/or ignition coils fit your particular GM vehicle? Don't worry, once you get to the site they'll make sure it fits. If it doesn't, they find you the right part.