TEST 4:

Crank Sensor Resistance Test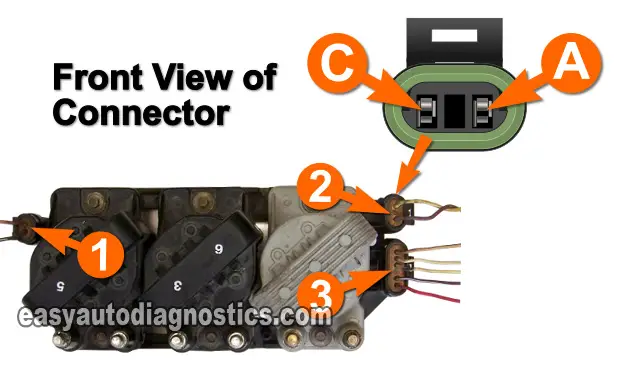 As mentioned in TEST 3 (CASE 2), in about 99% of the cases, getting an AC voltage signal (from the crank sensor) on your multimeter indicates that the ignition module is bad, but not always.
Several readers have reported that in their particular cases, the crank sensor did indeed produce the indicated A/C voltage in TEST 3 and yet the crank sensor was bad.
So, in this section, I'm gonna' recommend one more test and it's to measure the crank sensor's resistance.
Since the crank sensor is located in a very hard to reach place (on the engine block), you'll test its resistance where the crank sensor's connector plugs into the ignition module (and not at the crank sensor itself).
This is what you need to do:
Put your multimeter in Ohms (Ω) mode.
Disconnect connector 2 and:

Connect the test leads of the multimeter to either of the two wires with suitable tools (the polarity of the multimeter's test leads don't matter on this test).
These two wires are labeled with the letter A and letter C.

The multimeter's Ohms reading should read 500 to 900 Ohms.
Let's analyze your test results:
CASE 1: If your multimeter showed the indicated Ohms reading- Good, this means that the CKP sensor is working properly. The ignition control module is defective. Replace it.
CASE 2: If your multimeter DID NOT SHOW the indicated Ohms reading- Recheck all of multimeter's connections. Try again. If the multimeter still does not register the indicated Ohms reading, then the crank sensor is bad.
Where To Buy The Ignition Module Or Crank Sensor And Save
The following links will help you comparison shop for the original AC Delco (Delphi) ignition module and crank sensor:
Not sure if the above ignition module and/or crank sensor fit your particular GM vehicle? Don't worry, once you get to the site they'll make sure it fits. If it doesn't, they find you the right part.
Related 3.1L, 3.4L Test Tutorials
If this tutorial was helpful, then the following tutorials will be too:
How To Troubleshoot A No Start (GM 3.1L, 3.4L) (at: troubleshootmyvehicle.com).
How To Test The Fuel Pump No Start Tests (GM 3.1L, 3.4L) (at: troubleshootmyvehicle.com).
How To Do A Fuel Injector Resistance Test (GM 3.1L, 3.4L) (at: troubleshootmyvehicle.com).
How To Troubleshoot Misfire Codes (GM 3.1L, 3.4L) (at: troubleshootmyvehicle.com).
Real Life Case Studies From EasyAutoDiagnostics.com Readers
In this section is input and feedback from all of the folks who have had an ignition control module or crank sensor issue with their vehicle and found a solution. If you're one of them, thank you for sharing your experience with all of us! If you want to share your repair and/or diagnostic experience, you can use the contact form below.
Real Life Case Study 1
Vehicle: 1996 Chevrolet Lumina Sedan 3.1
Trouble Codes: None
Complaint: NO SPARK "Did the following test, had battery voltage, good Ground and 0.865 ac Volts from crank sensor, replaced module and car still did not start still no spark, pulled off middle coil pack and had battery voltage at spade number 2, tried cranking engine with a noid light on the 2 spades and did not get any lighting pulse"
Extra Notes: "The replacement module is new, even tried a second one because the guy bought it at autozone and i'm not really happy about electrical components from there. I removed the harness and found a small section of the wire worn thru and repaired it. I guess I'll get and led to try the test again. Also put another coil pack on ( used known good one) and had no spark."
Repair: " I replaced the crankshaft sensor and car started, the crazy thing is that the new sensor gave me the same readings, around 0.865 ac Volts when cranking and 600 ohms resistance. Thanks for your help. "
Info Provided Courtesy of: Lou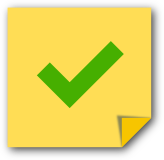 If this info really saved the day, buy me a beer!