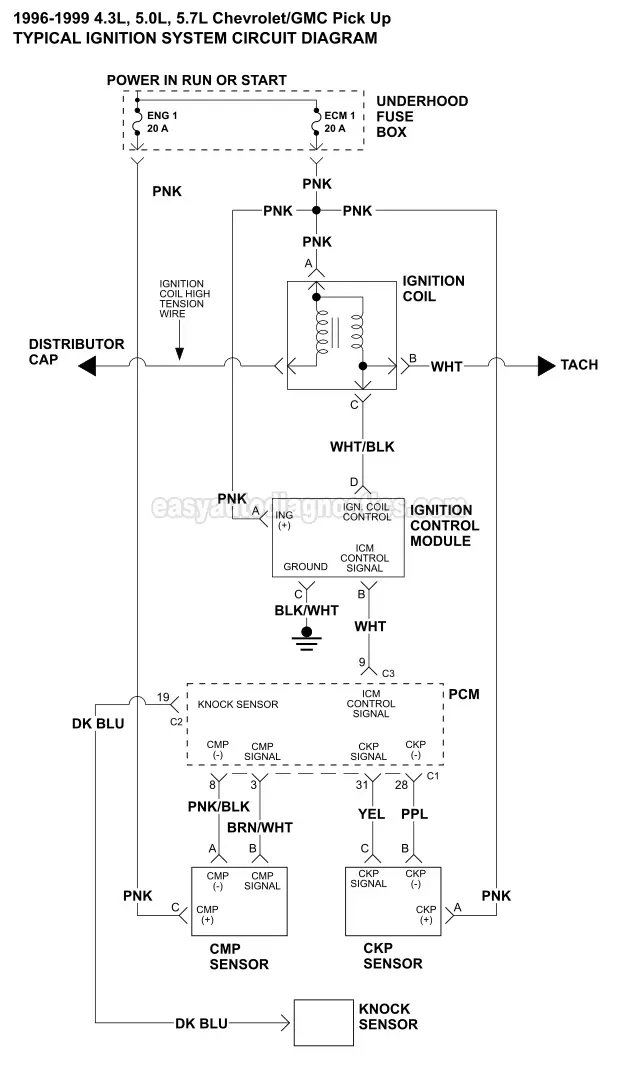 This typical circuit diagram of the ignition coil, ignition control module, camshaft and crankshaft position sensors applies to the 1996, 1997, 1998, 1999 Chevrolet/GMC 1500, 2500, and 3500 Pick Ups equipped with a 4.3L V6, or a 5.0L v8, or a 5.8L V8 engine.
NOTE: Testing the ignition system is a breeze. This tutorial will help you test the ignition coil, ignition module, and the crankshaft position sensor: How To Test The GM Ignition Control Module (1995-2005).
The typical ignition system circuit diagram for the 1992-1995 4.3L, 5.0L, and 5.7L 1500, 2500, 3500 Pick Up and Suburban can be found here: Ignition System Circuit Diagram (1992-1995 Chevy/GMC Pick Up And SUV).
Ignition System Diagnostic Manual Download
Testing the a no-start problem or a misfire due to an ignition system problem is not hard. If you'd like to have access to a wiring diagram, ignition component connector pin-outs, and the entire testing procedure (for a no-start or a misfire problem) in one place, then take a look at the following diagnostic manuals in downloadable PDF format:
More GM 4.3L, 5.0L, And 5.7L Tutorials
You can find a complete list of GM 4.3L, 5.0L, and 5.7L tutorials in this index:
Here's a small sample of the tutorials you'll find in the index:

If this info really saved the day, buy me a beer!