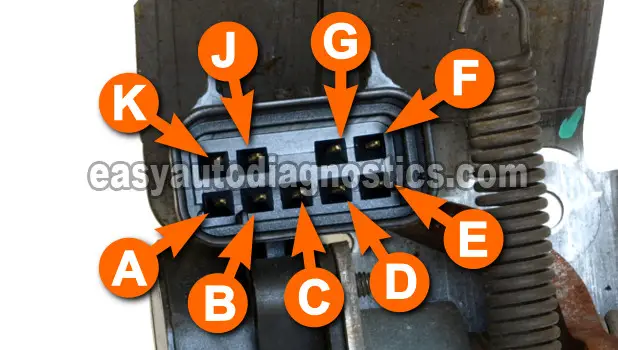 If you've been searching for a simple resistance test and specification tutorial for the Accelerator Pedal Position (APP) Sensors (APP 1, APP 2, and APP 3), then you've found it here.
In this tutorial, I'm gonna' present to you my 'Cheat Sheet' of resistance values that I use to quickly test all three of the Accelerator Pedal Position (APP) sensors inside the APP Assembly.
This tutorial complements these tutorials (which are also found here at easyautodiagnostics.com):
APP Sensor
TPS Sensor
Puedes encontrar este tutorial en Español aquí: Especificaciones De Los Sensores De Posición Del Pedal Del Acelerador (en: autotecnico-online.com).
What Tools Do I Need?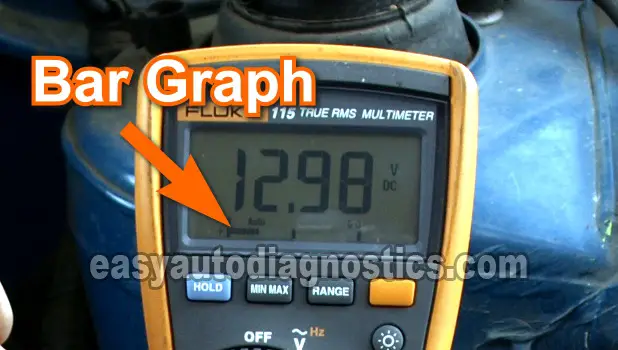 The most important tool you're gonna' need is a multimeter, but not just any type of multimeter.
You need to use a digital multimeter with a bar graph or an analog multimeter (this is a multimeter with a needle). The digital multimeter with a bar graph simulates the needle of the analog multimeter.
Here's why:
A digital multimeter without a bar graph will not respond fast enough to the changes in resistance.
A digital multimeter without a bar graph will display gaps in the Ohms values, as you manually depress and release the accelerator pedal. These gaps, in the Ohms values registered, can lead you to believe that APP Sensor 1 (or APP Sensor 2 or APP Sensor 3) is bad when it isn't.
An analog multimeter will be able to follow the depressing and releasing of the accelerator pedal easily.
If the needle jerks (does not have a fluid upward movement), then this signifies a problem.
Where To Buy The Accelerator Pedal And Save
You can buy the whole accelerator pedal with the APP sensor included or you can just buy the APP sensor assembly. The following links will help you to comparison shop for both:
Not sure if the accelerator pedal assembly or the APP sensor fits your particular vehicle? Don't worry. Once you get to the site they'll ask you for the particulars of your vehicle and they'll check it fits. If it doesn't fit, they'll find you the right one.
Resistance Specification 'Cheat Sheet'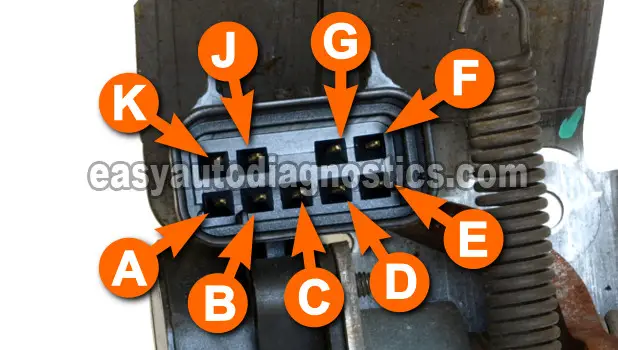 These are the resistance specifications of APP Sensor 1, APP Sensor 2, and the APP Sensor 3. I took these from a working APP Sensor Assembly.
APP Sensor 1 Resistance Specs.
Pin
Description
G

&

F
5.03 K Ω  - Pedal at Rest (not depressed)
G: 5 Volt Circuit
F: Position Signal Circuit
G

&

F
2.98 K Ω  - Pedal completely depressed
G: 5 Volt Circuit
F: Position Signal Circuit
NOTE: As you manually depress and release the accelerator pedal, your multimeter should swing its needle (or bar graph) smoothly and without stops or gaps in the movement.
E

&

F
2.58 K Ω  - Pedal at Rest (not depressed)
E: Ground Circuit
F: Position Signal Circuit
E

&

F
4.58 K Ω  - Pedal at Rest (not depressed)
G: Ground Circuit
F: Position Signal Circuit
APP Sensor 2 Resistance Specs.
Pin
Description
C

&

D
1.34 K Ω  - Pedal at Rest (not depressed)
C: Position Signal Circuit
D: 5 Volt Circuit
C

&

D
3.23 K Ω  - Pedal completely depressed
C: Position Signal Circuit
D: 5 Volt Circuit
NOTE: As you manually depress and release the accelerator pedal, your multimeter should swing its needle (or bar graph) smoothly and without stops or gaps in the movement.
B

&

C
3.73 K Ω  - Pedal at Rest (not depressed)
B: Ground Circuit
C: Position Signal Circuit
B

&

C
1.75 K Ω  - Pedal at Rest (not depressed)
B: Ground Circuit
C: Position Signal Circuit
APP Sensor 3 Resistance Specs.
Pin
Description
K

&

J
No Info  - Pedal at Rest (not depressed)
K: Position Signal Circuit
J: 5 Volt Circuit
K

&

J
No Info  - Pedal completely depressed
K: Position Signal Circuit
J: 5 Volt Circuit
NOTE: The APP Sensor Assembly that I was testing did not have APP Sensor 3 inside the assembly.
A

&

K
No Info  - Pedal at Rest (not depressed)
A: Ground Circuit
K: Position Signal Circuit
A

&

K
No Info  - Pedal at Rest (not depressed)
A: Ground Circuit
K: Position Signal Circuit