In this tutorial, I'm gonna' help you troubleshoot Throttle Position (TP) Sensor 2, also know as TP Sensor B, to see if this bad boy is bad or not.
When TP Sensor 2 goes bad, it'll usually set a P0220: Throttle Position (TP) Sensor 2 Malfunction diagnostic trouble code.
In case you're wondering where the heck TP Sensor 2 is at, it's inside and part of the Throttle Actuator Control (TAC) Throttle Body. In layman's terms, TP Sensor 2 (B) is inside the Electronic Trottle Body.
Contents of this tutorial:
You can find this tutorial in Spanish here: Cómo Probar El Código P0220 Del Cuerpo Del Acelerador Electrónico (at: autotecnico-online.com).
This tutorial complements these tutorials (which are also found here at easyautodiagnostics.com):
TPS Sensor
APP Sensor
If your GM pickup (SUV or van) has the mechanical throttle body (with an accelerator cable) and you need to test the throttle position sensor (TPS), then the article you may need is this one: TPS Test.
Symptoms Of A Bad TP Sensor 2
There are several symptoms, when the Throttle Position Sensor 2 (B) goes bad, that you're gonna' see/feel. These are:
Check engine light (CEL) will be shining nice and bright to let you know that there's a problem.
Diagnostic trouble codes:

P0220:Throttle Position (TP) Sensor 2 (B) Malfunction.

Lack of power when accelerating the engine.
The Throttle Position (TP) Signal is less than 0.28 Volts or more than 4.60 Volts (for more than 1 second).
You'll see the message center display: 'Reduced Engine Power' (and of course the engine will operate in Reduced Engine Power mode).
The engine may be turning off (this is done by the PCM).
What Tools Do I Need?
Even though a generic scan tool is a handy tool to have, it's not gonna' help you test TP Sensor 2. The most important tool that you're gonna' need is a digital multimeter (with a bar graph) or an analog multimeter.
Here are some of my suggestions:
Analog multimeter or a digital multimeter with a bar graph.

Your digital multimeter must have a bar graph to accurately test TP Sensor 2 in Ohms mode.

Why? Because a digital multimeter without a bar graph will not respond fast enough to the changes in resistance (as you test TP Sensor 2 per the instructions in TEST 5) AND will cause gaps in the Ohms values displayed on the multimeter's screen. These gaps, in the Ohms values registered, can lead you to believe that TP Sensor 2 is bad when it isn't.

The Fluke 115 digital multimeter has a bar graph. To see an example of this multimeter, check out this article: Abe's Multimeter Recommendation.
You can use an analog multimeter too.

Scan tool.

As I mentioned above, you don't need to use a scan tool to take advantage of the test info in this tutorial, but it does come in handy to read any trouble codes.
If you don't own a scan tool yet, I recommend taking a look at these 2 articles I've written: Scan Tool Essentials You Should Know! (at: troubleshootmyvehicle.com) and Actron CP9580 Scan Tool Review (also at: troubleshootmyvehicle.com).

Basic hand tools

These are: ratchet wrench, sockets, etc., that you'll need to remove and replace the Electronic Throttle Body if the Throttle Position Sensor 1 is bad.
Where To Buy The TAC Components
You can run down to your local auto parts house and buy a remanufactured throttle body for about US$165, or you can buy a new AC Delco unit online and as you're already aware, AC Delco is the factory original brand.
The following links will help you to comparison shop and save a few bucks:
Circuit Descriptions Of The Electronic Throttle Body Connector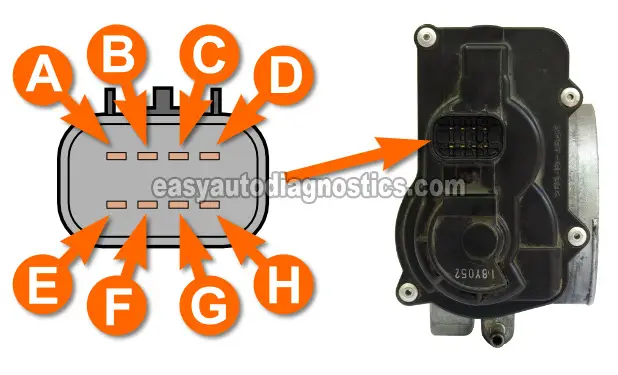 The Throttle Position Sensor 2 (B) is located inside the Electronic Throttle Body on your pickup (SUV, etc). The Electronic Throttle Body is made up of 3 major components, and these are:
Throttle Position Sensor 1.
Throttle Position Sensor 2.
TAC motor (this is the electric motor that opens and closes the throttle plate).
This means that the Electronic Throttle Body's electrical connector has a total of 8 wires sticking out of it. 3 of those 8 wires belong to TP Sensor 2.
Each one of the 3 wires, that belong to TP Sensor 2, have a specific job to do:
One feeds 5 Volts DC from the TAC Module (this is circuit is known, in GM tech terms, as the 5 Volt Reference Circuit).
Another wire provides Ground (in GM tech terms, Ground is known as the Low Reference Circuit).
And the last wire of the three, feeds the Throttle Position (TP) Signal circuit to the TAC Module.
The three wires that we are concerned about are:
Black w/ White stripe wire (letter B).
Light Blue w/ Black stripe wire (letter E).
Purple wire (letter F).
Below, you're gonna' find a table (chart) with the job description of each of the 8 wires that stick out of the Electronic Throttle Body's electrical connector.
Electronic Throttle Body Connector Pin outs
Pin
Wire Color
Description
A
Yellow
TAC Motor Control 1
B
Black w/ White stripe
Low Reference (Sensor Ground - TP Sensor 2)
C
Brown
TAC Motor Control 2
D
Black
Low Reference (Sensor Ground - TP Sensor 1)
E
Light Blue w/ Black stripe
5 Volt Reference ( TP Sensor 2)
F
Purple
TP Sensor 2 Signal
G
Dark Green
TP Sensor 1 Signal
H
Grey
5 Volt Reference ( TP Sensor 1)