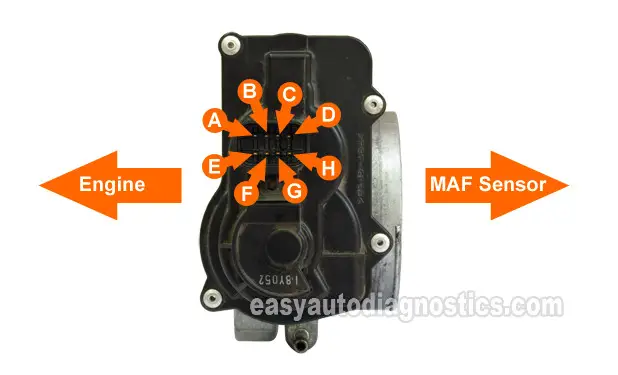 In this tutorial, I'm gonna' present to you my 'Cheat Sheet' of resistance values that I use to quickly test the Throttle Actuator Control (TAC) Throttle Body.
This 'Cheat Sheet' is just a list of multimeter resistance test values that I've put together at work to help me test the Electronic Throttle Body and get to the bottom of the TAC issue faster.
Contents of this tutorial:

You can find this tutorial in Spanish here: Especificaciones De Resistencia Del Cuerpo Del Acelerador Electrónico (at: autotecnico-online.com).
This tutorial complements these tutorials (which are also found here at easyautodiagnostics.com):
TPS Sensor
APP Sensor 1
What Tools Do I Need?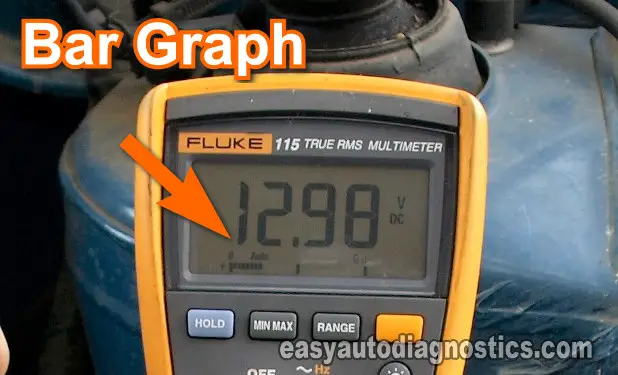 The type of multimeter that you'll need to resistance test Throttle Position (TP) Sensor 1 and Sensor 2 is important.
You need to use a digital multimeter with a bar graph or an analog multimeter (this is a multimeter with a needle). The digital multimeter with a bar graph simulates the needle of the analog multimeter.
Here's why:
A digital multimeter without a bar graph will not respond fast enough to the changes in resistance.
A digital multimeter without a bar graph will display gaps in the Ohms values, as you manually open and close the throttle plate. These gaps, in the Ohms values registered, can lead you to believe that TP Sensor 1 (or TP Sensor 2) is bad when it isn't.

The Fluke 115 digital multimeter has a bar graph... to see it, check out this article: Abe's Multimeter Recommendation.
You can use an analog multimeter too.

An analog multimeter will be able to follow the opening and closing of the throttle plate easily.
If the needle jerks (does not have a fluid upward movement), then this signifies a problem.
Resistance Specification 'Cheat Sheet'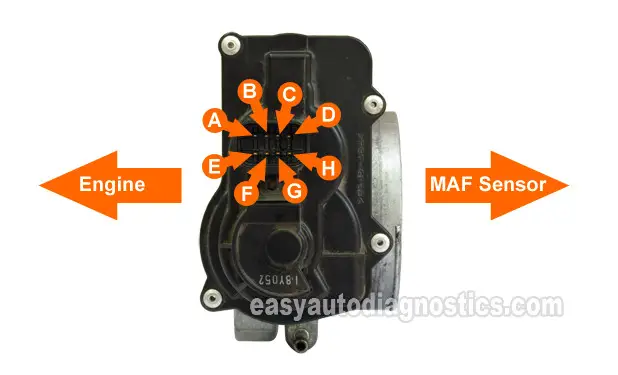 These are the resistance specifications of TP Sensor 1, TP Sensor 2, and the TAC motor. I took these from a working TAC Throttle Body.
In the next page you'll find a complete wire description of the 8 wires coming out of the TAC connector.
TP Sensor 1 (A) Resistance Specs.
Pin
Description
H

&

G
4.2 K Ω  - Closed Throttle Position
H

&

G
1.4 K Ω  - Wide Open Throttle Position
H

&

G
As you manually open and close the throttle plate, your multimeter should swing its needle (or bar graph) smoothly and without stops or gaps in the movement.
G

&

D
1.4 K Ω  - Closed Throttle Position
G

&

D
4.7 K Ω  - Wide Open Throttle Position
TP Sensor 2 (B) Resistance Specs.
Pin
Description
E

&

F
4.0 K Ω  - Closed Throttle Position
E

&

F
1.2 K Ω  - Wide Open Throttle Position
E

&

F
As you manually open and close the throttle plate, your multimeter should swing its needle (or bar graph) smoothly and without stops or gaps in the movement.
B

&

F
1.5 K Ω  - Closed Throttle Position
B

&

F
4.6 K Ω  - Wide Open Throttle Position
TAC Motor Resistance Specs.
Pin
Description
C

&

A
4.4 Ω  - TAC Motor