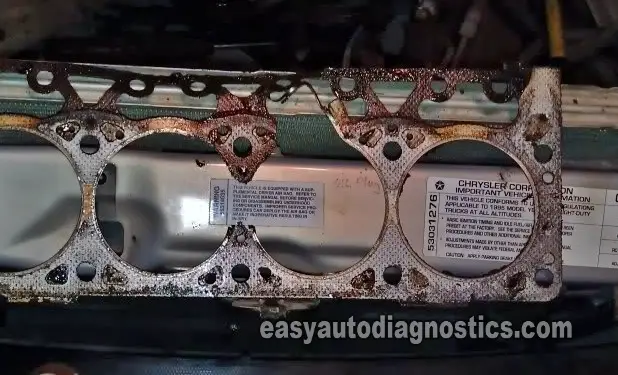 You can find out if the head gasket, on your 2.2L Isuzu Rodeo, is blown or not with 4 simple tests.
In this tutorial, I'm gonna' explain how to do all four. You'll be able to find out if a blown head gasket is behind an overheating problem or a 'cranks but does not start' problem.
Contents of this tutorial at a glance:
Symptoms Of A Blown Head Gasket
Blown head gasket problems usually fall into one of two categories. In the first, the head gasket problem will cause the engine to crank but not start.
In the second category, the head gasket problem will cause the engine to overheat as it runs.
Here's a basic list of symptoms you'll see when the head gasket has failed:
The exhaust smells like antifreeze being burned.
White smoke comes out of the tailpipe as soon as the engine starts and runs.
A rough idle condition usually accompanied by a P0300 misfire trouble code.
Specific misfire cylinder codes like: P0301, P0302, P0303, or P0304.
A lack of power when you accelerate the vehicle.
TEST 1:

Engine Oil The Color Of Coffee With Too Much Creamer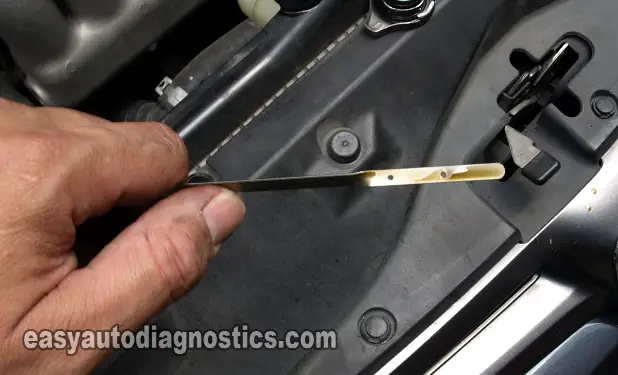 The first test we're gonna' do is to check the color of the engine oil sticking to the engine oil dipstick.
If the head gasket is blown, you'll notice that the engine oil will be the color of 'coffeee with too much creamer'.
Let's get started:
1

Open your Isuzu's engine hood

2

Pull out the engine oil dipstick.

3

What color is the engine oil on the dipstick?

1.) The engine oil is the color of 'coffee with too much creamer'.

2.) The engine oil will be its usual normal color.
Let's examine your test results:
CASE 1: The engine oil has a normal color. This is the correct and expected test result.
We're not out of the woods yet. The next step is to see if the coolant is being pushed out of the radiator (with its cap removed) while we crank the engine. For this test go to: TEST 2: Coolant Shooting Out From Opened Radiator.
CASE 2: The engine oil looks like 'coffee with way too much creamer'. This test result confirms that the head gasket on your 2.2L Isuzu Rodeo (Amigo).