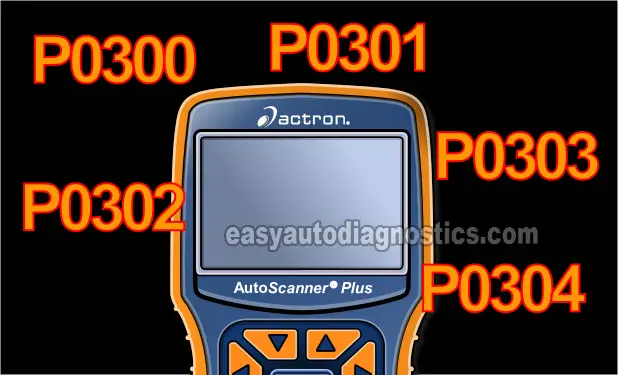 A misfire can be a challenge to diagnose, since a misfire can be caused by a number of different things.
That's right, anything from a fouled spark-plug to burned cylinder head valves can cause a misfire. Whatever the root cause of the misfire, the bottom line is that one or more cylinders are not contributing to total engine power output. This leads to power loss, rough idle, unstable RPM and bad gas mileage.
In this article, I'll talk about the most common causes of a misfire and I'll show you a specific diagnostic strategy that'll help you track down and solve the issue.
Contents of this tutorial at a glance:
Symptoms Of A Misfire
One of the core symptoms of a misfire is a rough idle but this isn't the only symptom you'll experience. Here are some more that you might see:
Check engine light is on with the one or several of the following diagnostic trouble codes:

P0300: Random Cylinder Misfire.
P0301: Cylinder #1 Misfire.
P0302: Cylinder #2 Misfire.
P0303: Cylinder #3 Misfire.
P0304: Cylinder #4 Misfire.

Really bad gas mileage.
Lack of power.
Engine may start, run for a few minutes and stall.
Smell of raw gasoline coming out of the tail-pipe.
Basic Causes Of A Misfire Condition
There are three major areas that are prone to causing a misfire condition, and thus misfire codes, on your Suzuki with a 1.3L or 1.6L Engine. These are:
The fuel system.
The ignition system.
The engine (piston, cylinder, and cylinder head valves).
As you're already aware, the engine needs three very specific things to start and they are: air, fuel and spark.
When things are working like they should, each cylinder gets the same amount of air, fuel and spark. So, it's when one of these three components is missing, from one or two cylinders, that the engine experiences a misfire.
In the next couple of headings, I'll dissect each system and see what specific components (of each) are the ones that are usually responsible for a misfire condition and misfire codes.
With And Without Misfire Codes
A misfire that lights up the check engine light (CEL) with one of the following codes: P0301, P0302, P0303, P0304 is a misfire that is fairly easy to troubleshoot and diagnose, since the PCM (Powertrain Control Module = Fuel Injection Computer) has identified the engine cylinder with the problem.
What the diagnostic trouble code doesn't tell you is exactly what has failed (like a COP coil, or a fuel injector, or engine compression).
The hard-to-diagnose misfires are usually the ones that set a P0300 Random Misfire Code (since the misfire is affecting all of the four cylinders) or ones that don't set a diagnostic trouble code at all.
No matter if you have a specific cylinder misfire code or no codes at all, the underlying cause is still a lack of ignition, or fuel (lean fuel mixture) or an engine mechanical problem (think vacuum leaks, compression, etc).
Let's turn the page and we'll take a look at what you'll need to do to pinpoint and resolve the issue causing the misfire.