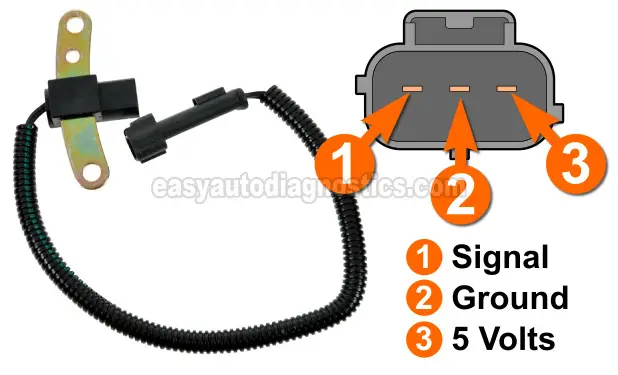 Crankshaft position (CKP) sensor failures, on the 1997, 1998, and 1998 2.5L Dodge Dakota, are common (after all, it ain't gonna' last forever). The good news is that testing it is a pretty simple affair and you only need a multimeter (for the test itself).
In a nutshell testing the crankshaft position sensor involves three simple tests. These are making sure that the CKP sensor is creating a crankshaft position signal and then make sure it's getting both power and Ground. These three tests are explained in a step-by-step manner in this tutorial.
Contents of this tutorial at a glance:

You can find this tutorial in Spanish here: Cómo Probar El Sensor De La Posición Del Cigüeñal (1997-1999 2.5L OHV Dodge Dakota) (at: autotecnico-online.com).
NOTE: The test for the 1996 Dodge Dakota crankshaft position sensor can be found here: How To Test The Crankshaft Position Sensor (1996 2.5L Dodge Dakota).
Symptoms Of A Bad Crankshaft Position Sensor
There are two basic types of crankshaft position sensor failures: either it fails completely or fails intermittently.
9 times out of 10, the CKP sensor fails completely and the engine no longer starts. These are the easiest to troubleshoot and resolve.
In some cases, it fails intermittently. In these situations, the engine starts and runs but stalls every now and then.
Here's a list of symptoms you're gonna' see when the crankshaft position sensor fails on your 2.5L Dodge Dakota:
Engine cranks but doesn't start.
No spark at all spark plug wires.
No fuel injector activation pulses.
Trouble Code P0320: No Crank Reference Signal At PCM.
OBD II Trouble Code P0320: No Crank Reference Signal At PCM
Usually (but not always) when the crankshaft position sensor fails, your Dodge Dakota fuel injection computer is gonna' set a P0320: No Crank Reference Signal At PCM trouble code.
This P0320 trouble code simply tells you that the fuel injection computer, on your Dodge Dakota, is not receiving CKP signals from the crankshaft position sensor.
For the most part, a trouble code P0320 is caused by a defective sensor that it needs to be replaced with a new one. Still, it's always a good idea to make sure that it's getting power and Ground before replacement.
In some cases, the fuel injection computer doesn't always register a P0320 code when the CKP sensor fails. In these cases, the only way to verify that the crankshaft position sensor is defective is by testing it with a multimeter or an oscilloscope.
Circuit Descriptions Of The Crankshaft Position Sensor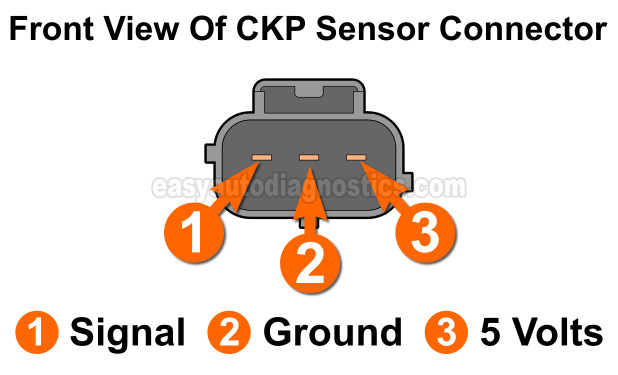 The crankshaft position sensor is a 3-wire sensor. One wire is a power wire, one is a Ground wire, and one is a signal wire.
Below is a brief description of the power, Ground, and signal wires of the CKP sensor's connector:
Crankshaft Position Sensor Connector
Pin
Wire Color
Description
1
Gray with black stripe (GRY/BLK)
CKP Signal
2
Black with light blue stripe (BLK/LT BLU)
Sensor Ground
3
Purple with white stripe (PPL/WHT)
Power (5 Volts DC)
NOTE: The connector on the crankshaft position sensor itself are male terminals. The connector on the engine wiring harness crank sensor connector has female terminals.
Alright, let's get testing.