Cleaning the Ford MAF sensor (the type that's inside the round air filter canister) is simple and easy. You don't even have to take it out of the air filter canister to do it! This article will show you how.
This article only deals with cleaning the MAF sensor, if you need to test this type of ford mass air flow (MAF) sensor click here: How To Test The FORD MAF 4.2L, 4.6L, 5.4L Round Canister Type Air Filter Assembly MAF.

You can find this tutorial in Spanish here: Cómo Limpiar El Sensor MAF (Ford 4.2L, 4.6L, 5.4L) (at: autotecnico-online.com).
Symptoms Of A Dirty Ford MAF Sensor
The most common symptom experienced when the MAF sensor is dirty is that the engine bogs down when you give it gas. This is most noticeable when you're accelerating the vehicle down the road.
Other symptoms you'll see are:
Check engine light illuminated by one or both of the following codes:
Your vehicle's gas mileage is going down the drain.
Won't pass your state's yearly emissions test.
There are several conditions that can cause the MAF sensor to get dirty. Let's explore them a bit since knowing this will help you to avoid a repeat of the problem.
Air filter is missing.
Air filter is torn or missing pieces.
Air filter is not properly set in place in its assembly.
Air filter box assembly is broken, letting in unfiltered air.
If any of the above apply to your car or truck, your MAF sensor's hot-wires are probably dirty and in need of cleaning.
What Do I Use To Clean The MAF Sensor?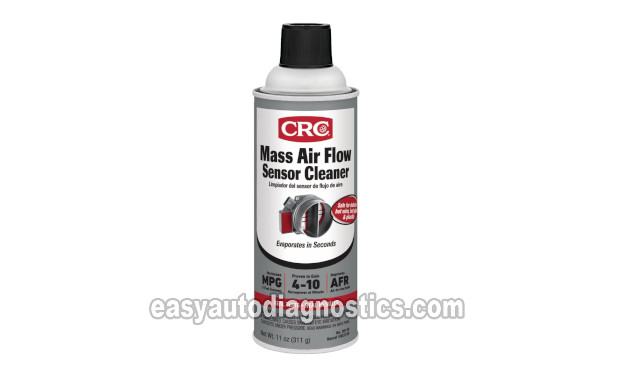 We can't just use any type of solvent to clean the MAF sensor with. Here are a couple of very important guidelines on what to use:
An electronics spray cleaner can be used.

You can buy it at your local auto parts store (Auto Zone, Pepboys, O'Reilly, etc).
You can buy it at your local electronics store (Radio Shack, Fry's, etc).

Or you can buy a MAF sensor cleaning spray. Yes, there is one designed just for cleaning MAF sensors.

This cleaner is made by CRC Industries and its part number is: 05110.
You can buy it at your local auto parts store (Auto Zone, Pepboys, O'Reilly, etc).

Don't use carburetor or brake clean spray or gasoline.

These solvents will leave a residue on the wires and this residue will attract more dirt and contamination.
Not to mention the harsh solvent can damage the MAF sensor's electronics.

Also, don't attempt to physically clean the sensor with anything (like a cotton swab) or you may break the wires.