STEP 1:

Exposing The MAF Hot Wires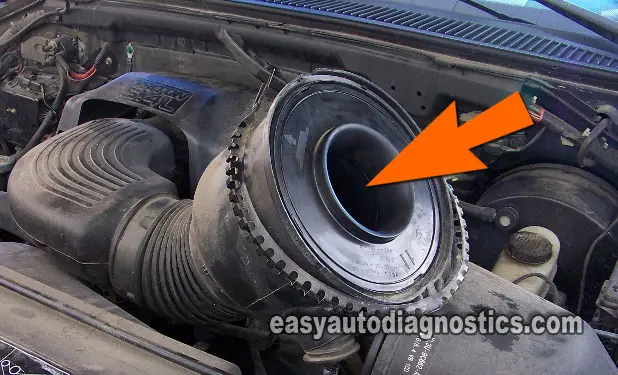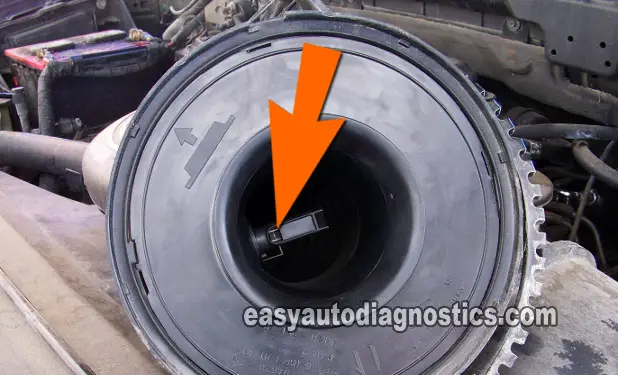 It isn't necessary to take the air filter assembly apart to clean the MAF sensor inside of it. It'll be enough just to expose the MAF sensor's hot-wires to spray clean them.
Undo the circular clasp/latch on the air filter canister assembly.
Raise the part (of the assembly) that connects to the air duct as shown in the first photo in the image viewer.
I recommend that you use a flash light to shine light on the two hot-wires to see if they're all covered in fuzz.
STEP 2:

Spray Cleaning The Hot Wires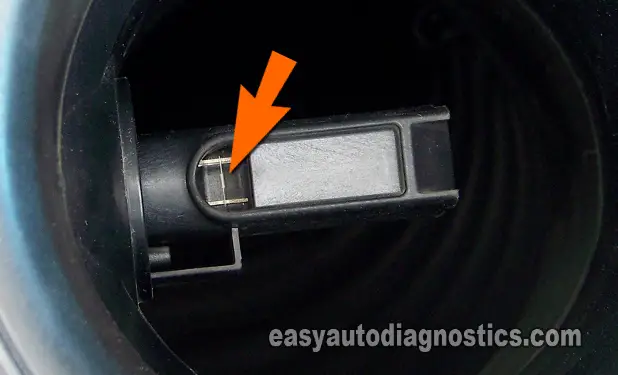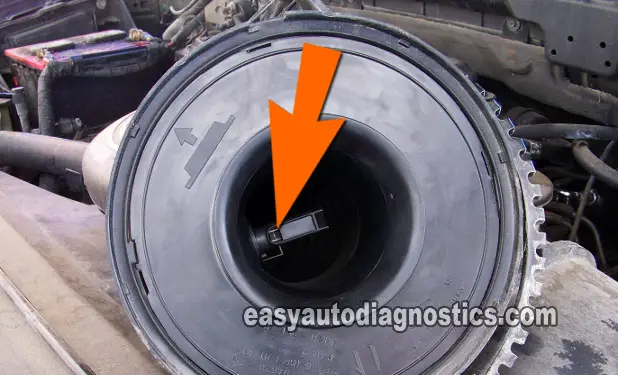 Once the Hot Wires are exposed, all that you need to do is spray clean them. There's isn't any need to physically clean them with anything (like a cotton cue tip, etc).
If the MAF sensor's two hot-wires are dirty (contaminated), they'll be covered in a dark gray fuzz.
After you're done cleaning the hot-wires, inspect the air filter and the assembly it's in. If either is damaged and/or broken replace them. After it's all said and done, road test the pick up (or SUV or van) to see if the problem has been solved.
Reader's Real Life Case Studies And Solutions
In this section is input and feedback from all of the folks who have had a similar issue with their vehicle and found a solution. If you're one of them, thank you for sharing your experience with all of us!
If you want to share your repair and/or diagnostic experience, you can use the contact form below.
Real Life Case Study 1
Vehicle: 1998 Ford F150 5.4L
Trouble Codes: "...Check Engine Light was on but I don't remember the codes."
Complaint: "No Power. The pick up wouldn't go over 50 mph. If I gave it gas to fast, the engine would bog down. If i gave it gas very slowly the pickup would move and work ok..."
Repair: "...the maf sensor was dirty, but i made the mistake of using carberator cleaner to clean it and i messed up the maf sensor. This is the reason why i'm sending this to you. Let everyone know that using carb. spray will ruin the maf. As soon as i cleaned it, the truck would not idle and when i stuck it in drive it would die. From your write up, i knew i had just screwed the maf sensor. I should have used the maf cleaner but i thought a cleaner is a cleaner no matter what it cleans. To make the long story short i spent $180 for a new maf sensor at AutoZone because i didn't use the right maf cleaner... "
Courtesy of: M. Orozco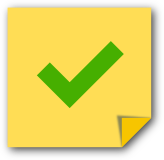 If this info really saved the day, buy me a beer!