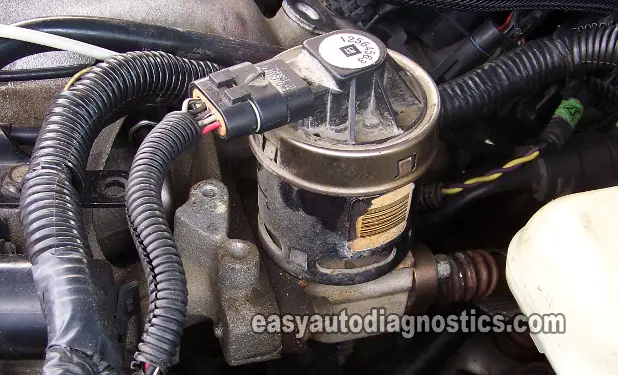 Testing and troubleshooting an EGR valve issue or EGR diagnostic trouble code (DTC) on your GM vehicle is not hard to do.
In this article, I'll show you how to do it step-by-step and you won't even need a scan tool!
Before we jump in head long into this article, you need to know that there are two types of electronic EGR valves that GM uses in most of their late model vehicles.
The EGR valve that's covered by this article are for 3.1L, 3.4L, and 3.5L GM vehicles from 2000 to 2009 models years (although some late 1999 models use this type of EGR valve too). To make sure this tutorial applies to your specific vehicle, check this section out first: Identifying The EGR Valve.
You can find this tutorial in Spanish here: Cómo Probar La Válvula EGR Electrónica (3.1L, 3.4L GM) (at: autotecnico-online.com).
Symptoms Of A Bad EGR Valve
I can tell you from experience that a bad EGR valve is rare. I'm not saying they don't go bad (they do), but it's rare.
The most common problem is the EGR passages inside the intake manifold's plenum getting clocked with carbon. This design (either by intent or incompetence on the part of GM -after all, Ford and other makes don't have this problem) has made auto repair shops tons and tons of money (before someone sues me, let me tell you that this is just my opinion).
OK, whether the EGR valve itself is bad or the passages are clogged with carbon, this is what you'll usually see:
Check engine light (CEL) will be shining nice and bright.
EGR valve fault codes:

P0401 EGR System Flow Insufficient.
P0403 EGR Solenoid Control Circuit.
P0404 EGR Open Position Performance.
P0405 EGR Position Sensor Circuit Low Voltage.

Rough idle.
Really bad gas mileage.
Lack of power as you accelerate the vehicle down the road.
Car (or truck or mini-van) seems to run OK above 30 miles and hour but once you come to an idle, the engine barely stays running.
The car runs great, just the check engine light (CEL) is on and with EGR codes stored in the PCM's memory.
What Tools Do I Need?
You'll need the following:
A multimeter (don't have a digital multimeter? Need to buy one? Click here to see my recommendations: Buying A Digital Multimeter For Automotive Diagnostic Testing).
A repair manual.

For whatever remove and replace info you'll need that is not covered by this article.

A wire-piercing probe to pierce the wire.

If you need to see what this tool looks like, click here: Wire-Piercing Probe.
Circuit Descriptions Of The GM EGR Valve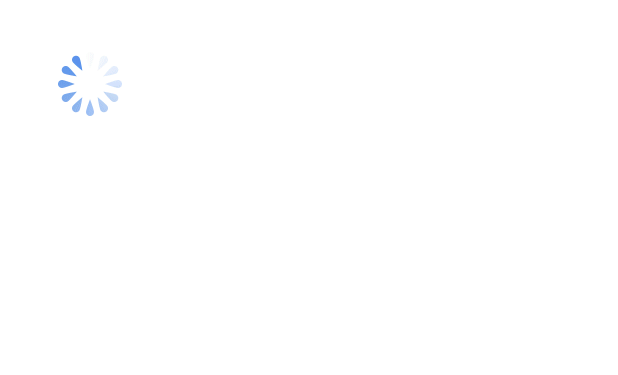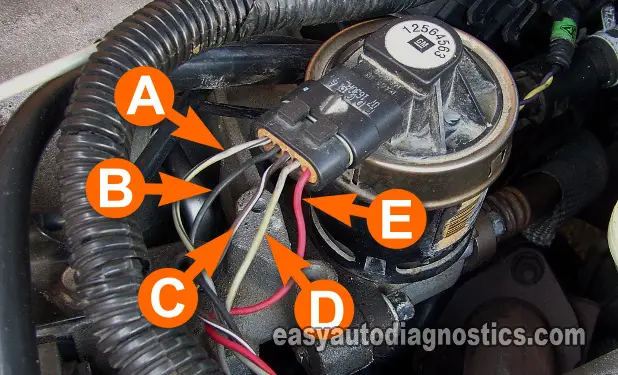 There are 5 wires sticking out of the EGR valve's connector, in this section we'll explore what each one does.
Most of the EGR valves will have the letters A thru' E molded onto the EGR valve's connector. I'll be using these same letters for the circuit descriptions below:
Circuit labeled A:

Ground circuit for EGR valve solenoid. Gray with black stripe wire.

Circuit labeled B:

EGR valve pintle position sensor Ground (provided by the PCM). Black wire.

Circuit labeled C:

EGR pintle position signal circuit. Brown with white stripe wire.

Circuit labeled D:

5 Volt Reference for pintle position sensor (provided by the PCM). Gray wire.

Circuit labeled E:

Power source for EGR solenoid (provided by the PCM). Red wire.
The color of the wires described in the circuit descriptions above, are the colors for the majority of the GM vehicles that use this type of EGR valve, so there's a good chance that on your car, these wires may not share the same colors.
If on your vehicle the color of the wires are different, no need to worry. This is no cause for concern since the circuit descriptions are still the same.