A digital multimeter is one of the most important diagnostic tools that you'll need to troubleshoot and diagnose any of the many electrical and electronic components in you car.
It used to be that a 12 Volt automotive test light could test just about any type of power/ground problem in carburated cars and trucks. Well, in today's modern fuel injected cars and trucks a 12 V. automotive test light just won't cut it anymore.
With so many to choose from, it can be quite overwhelming/confusing to choose and buy one. So with this article, I'll throw some light on the subject. I'm also going to make some recommendations and where to buy them.
What Features Should The Multimeter Have?
Some digital multimeters are like Swiss Army knives with tons of features, that not only raise the price of the multimeter considerably, but that you'll not really use on your troubleshooting tests. Based on my experience as an automotive technician, I can tell you that you don't have to buy a multi-featured dedicated automotive digital multimeter.
While some of these multimeters can do everything but the laundry, the most common features that you'll be using are:
Measuring Volts DC and AC.
Measuring Resistance in Ohms.
Measuring Frequency Hertz (Hz). This is a very, very important feature.
Have a 10 megaohm (MΩ) impedance (this is to be able to diagnose sensitive automotive electronics).
This article is made specifically for you, the Do-It-Yourselfer, who is not a professional automotive technician, and needs to buy a good and inexpensive digital multimeter. Below are the 2 multimeters I recommend to buy: 1) Tekpower TP8268 Digital Multimeter or the 2) Fluke 115 Compact True-RMS Digital Multimeter.
Tekpower TP8268 Digital Multimeter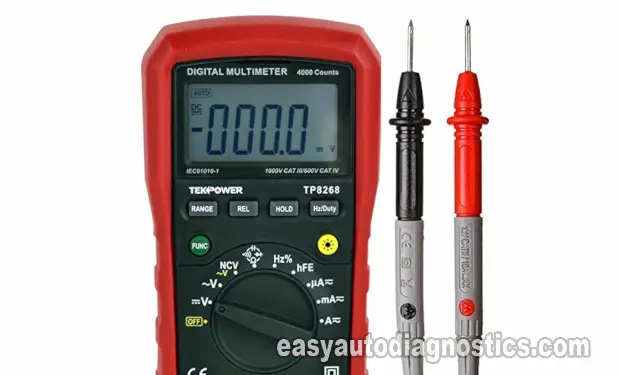 NOTE: The Mastech MS8268 multimeter has been upgraded to the Tekpower TP8268 Digital Multimeter.
What I love about this multimeter, besides getting the job done, is the price. This multimeter is the epitome of the phrase: it doesn't have to 'cost an arm and a leg'. Here are some other features that I have found useful:
It's grease and dirt friendly due to the case's dark color.
It's people friendly (easy to use) since you don't have to hunt for the different functions.
It takes falls pretty well. Now of course you're not buying a multimeter to drop it, but when you're working around a car or engine compartment, equipment falling and hitting the floor is a common occurrence. This multimeter can take it.
Handles all of the important basics: AC/DC Volts, Ohms, Amps, etc.
It handles Hertz Frequency.
It uses 9 Volt battery (which is included).
It has the Auto Power Off feature which will turn the multimeter off on its own if you walk away and forget to turn it off yourself.
If you buy it new, it comes with test leads and an Owners Manual.
It's a 10 megaohm impedance multimeter.
If you're looking for quality at a low price, then the Tekpower TP8268 Digital Multimeter is calling your name and you can buy it here: Tekpower TP8268 AC/DC Auto/Manual Range Digital Multimeter with NCV Feature, Mastech MS8268 Upgraded, MS88.
How much does it cost? It's not an expensive digital multimeter since it usually goes for around 25 to 30 dollars (US). You can find the current price in the box on the right.
Now, you could buy a cheaper Chinese digital multimeter for about 10 Dollars (US) or less, but it won't have the Hertz (Hz) frequency feature or be a 10 megaohm impedance type multimeter and if you're serious about saving time and money, you'll eventually need to buy a Hertz frequency enabled multimeter and the Tekpower TP8268 Digital Multimeter is the one.