Fluke 115 Compact True-RMS Digital Multimeter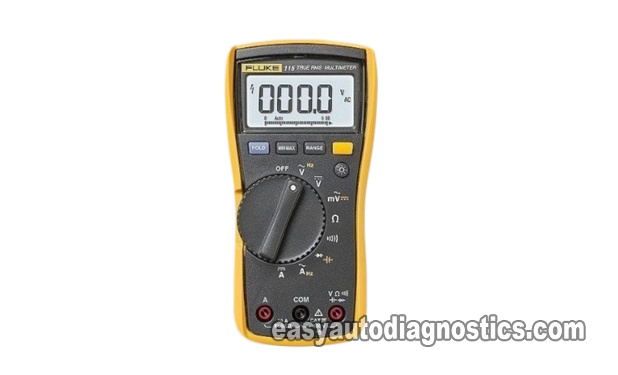 The Fluke multimeter, is among the most accurate and the best digital multimeters to own. Now, those of you that need to upgrade to a Professional Grade tool or want to start out with one, then the Fluke 115 True-RMS Digital Multimeter is the one for you. Having owned one for many years, this is why I recommend it:
Virtually drop-proof. Now of course you're not buying a multimeter to drop it, but when you're working around a car or engine compartment, equipment falling and hitting the floor is a common occurrence. This multimeter can take it.
Handles all of the important basics: AC/DC Volts, Ohms, Amps, etc.
It handles Hertz Frequency.
Easy to use.
Its yellow color makes it hard to lose it or forget it among the darkness of the engine compartment.
It uses one 9 V battery.
It has the Auto Power Off feature which will turn the multimeter off on its own if you walk away and forget to turn it off yourself.
True RMS multimeter. Which, in layman's terms, means this is a very accurate multimeter.
If you buy it new, it comes with test leads, an Owners Manual and the battery is included.
This is a 'Professional Grade' tool.
It's a 10 megaohm impedance multimeter.
If you're looking for an accurate, rugged and dependable multimeter, then the Fluke 115 Compact True-RMS Digital Multimeter is the one your wife would want you to buy (by the way, she says it's ok, you can buy it) and you can buy it here: Fluke 115 Compact True-RMS Digital Multimeter. How much does it cost? You can find the current price in the box on the right of the list of features above.