What Tools Do I Need?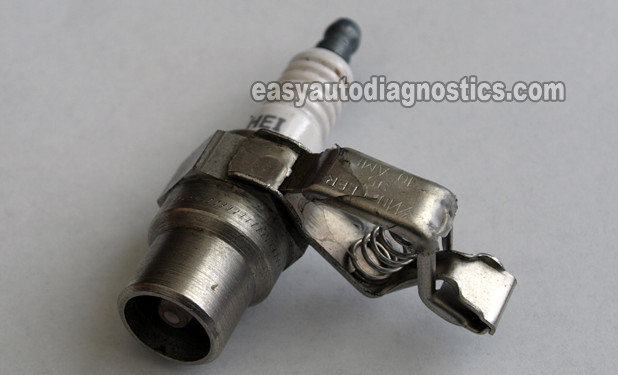 Using the right tool will help you to avoid complications and/or confusing test results. The best way to waste your time and money, is using the wrong tool for the job... akin to eating a bowl of soup with a fork. Below is a list of tools that are used in the test instructions in this article:
An HEI spark tester

This inexpensive spark tester is a MUST have tool to be able to correctly diagnose the coil packs on your 3.8L GM vehicle with the info and tests in this article (don't have an HEI spark tester? Need to buy one? You can buy it here: OTC 6589 Electronic Ignition Spark Tester).

An LED light (to see what this tool looks like, go here: Abe's LED Light Tool).
Battery jump start cables.
A small piece of vacuum hose.
A digital multimeter (don't have a digital multimeter? Need to buy one? Click here to see my recommendations: Buying A Digital Multimeter For Automotive Diagnostic Testing).
A Test light.
A helper.
I can not stress enough the importance of using an HEI spark tester for all of your spark tests described in this article. Any other spark tester or method of testing for spark might have you chasing up the wrong tree and spending your hard earned money on the wrong diagnostic conclusion.
Important Precautions, Do's And Don'ts
The tests you're about to learn are very simple and easy but require that you do them with safety as your foremost concern and using the proper tools to avoid complications and/or wasting time and money. Since most of the testing will be done with the engine cranking, you have to be alert and take all necessary safety precautions so that you won't get hurt. Here are some more suggestions:
If you don't have an HEI spark tester, buy one.
Do not use a normal spark plug instead of an HEI spark tester.

You may have read somewhere that using a regular spark plug to test for spark is acceptable. Nothing could be further from the truth.
If you love to waste time and money, then use a regular spark plug instead of an HEI spark tester.

Do not remove the spark plug wire from the spark plug while the engine is cranking to test for spark.

Testing for spark this way can damage the ignition coil that that spark plug wire is attached to.

Have your helper (who's helping you crank the car) wait outside of the vehicle till you're clear of the engine before giving the order to crank the engine for you. After your done with the test, have him (or her) step out of the car again.
Some of the tests require that you crank the engine to observe some test result. The engine will start as the test is being done, so it goes without saying that you need to be alert and very careful. Take all necessary safety precautions.
Do not use a test light where an LED Light is called for, this is important.
Safety is a matter that can't be taken for granted, so be careful, stay alert and use common sense when performing the tests in this article.